By Kevin Wing
Senior Correspondent, Off Camera
Chapter Governor, San Francisco
Ron Wren has always led an interesting life. He worked in Bay Area television during the early years of our industry, beginning in the 1950s and '60s and working in the advertising and promotion departments at San Francisco's KGO-TV and KPIX. And, for 55 years, this energetic publicist, advertising executive and voice-over talent has owned an advertising agency, Ronald R. Wren Advertising, a mainstay in Bay Area advertising and media circles.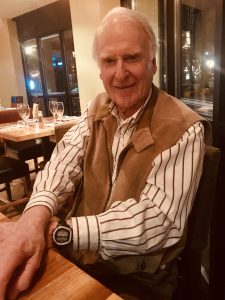 The business is still going strong, and Wren has four regular clients with whom he works for. At his age, most people have retired.
Wren is also 88 years old. And, he is also a 1994 inductee of the Silver Circle of the San Francisco/Northern California Chapter of The National Academy of Television Arts & Sciences.
Though he is 88, Wren is not ready to retire. He loves what he does too much.
"I work three days a week," Wren says. "I work a hard three days a week, and my clients keep me busy."
Among his clients, Wren finds advertising to promote the annual San Francisco Car Show. It has been his gig for years. He also promotes the California Mille classic car race. He has been doing that for 30 years.
These days, Wren splits his time between the Bay Area and Lake Tahoe. He and his wife, Jan, live in Truckee most of the year. Wren also has a residence in Rossmoor, outside Walnut Creek.
"I have the best of both worlds. Tahoe and the Bay Area," Wren explains. "How can anyone go wrong?"
In the mid-1960s, after working in Bay Area television for a dozen years, Wren, decided it was time to go into business for himself. The year was 1966. Wren decided that going into business for himself would be the more lucrative thing to do.
Something Wren also did for many years, and with passion, was write for TV Guide. He wrote about television, of course, but he also wrote about Hollywood and how films were edited – for television — in the film labs of those days.
For many of Hollywood's biggest movies during the mid-20th century, those that made it to the small screen would be edited to fit into the time slot and to accommodate commercial, something moviegoers never needed to worry about in theaters.
In the 1960s, Wren wrote a piece for TV Guide called "Mayhem on the Movies". It was a funny account about how film editors at TV stations would cut out scenes and patch up the film, sometimes to haphazard yet funny lengths. Only the keen movie buff watching his or her favorite film on TV could sometimes tell that something was amiss with the TV version of a Hollywood blockbuster.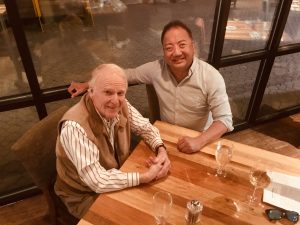 "Oh, it was so funny," Wren said. "But it was an adventure in those days. TV stations did what they needed to do to air movies on TV."
It just goes to show how TV audiences became accustomed to years of crazy edits that didn't quite make any sense.
To find out more about Wren, visit his Silver Circle page on our Chapter website for his Gold & Silver Circle Profiles feature from 2010.