By Kevin Wing
Senior Correspondent, Off Camera
Chapter Governor, San Francisco
The Bay Area television community is mourning the passing of one of its best-ever television news photographers.
Alfred "Al" Bullock was 96 when he passed away Aug.16 at a Bay Area care facility where he'd been living since May. He'd been a longtime resident of Belmont.
For 30 years — from 1962 to 1992 — Bullock was a cameraman for San Francisco's KGO-TV Channel 7. He was inducted into the Silver Circle of the San Francisco/Northern California Chapter of The National Academy of Television Arts & Sciences in 2003.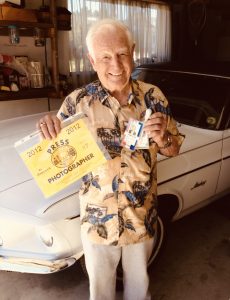 Born in 1923, Bullock grew up in Utica, New York, spending his formative years there during the Great Depression. He left home at 17 to join the Navy. Bullock was shipped to Pearl Harbor as an 18-year-old second class photographer's mate. He was there the day Japan attacked the United States.
When the Japanese bombed Pearl Harbor on Dec. 7, 1941, Bullock was on Ford Island, filming the attack "armed with nothing more than a hand-cranked 16 millimeter camera," says Peter Cleaveland, a longtime friend and a former KGO-TV reporter.
From that point on, Bullock was a combat cameraman, recording and photographing the war in the Pacific.
And Pearl Harbor was just the first event that Bullock captured on film.
On March 19, 1945, Bullock again recorded a historic event. He was aboard the USS Santa Fe when a lone Japanese aircraft dropped a bomb on the nearby USS Franklin. When the USS Franklin was hit, Bullock once said everyone was trying to get off the ship while he was trying to get on.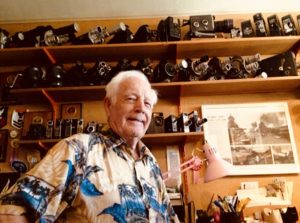 The USS Santa Fe came to the carrier's aid and the wounded were moved off the Franklin, while the remaining crew guided the vessel home. Out of a crew of more than 3,000, about 1,100 were killed by the bomb and the explosions that followed.
After the war, Bullock moved to San Mateo and worked a variety of jobs, but had his eyes on the news business.
In the early 1960s, Bullock filmed auto races, including one that ended in a fiery crash. Roger Grimsby, KGO-TV's news anchor and news director at that time, watched how Bullock covered the events. Grimsby bought the film for his newscasts. KGO-TV eventually hired Bullock in 1962.
Bullock worked at KGO until 1992. During his tenure there, he covered all of the major events affecting the Bay Area during those three decades, beginning with the assassination of President John F. Kennedy in 1963, the Vietnam War, the Free Speech Movement which began in the Bay Area in the late 1960s, the kidnapping of newspaper heiress Patty Hearst in 1974, and the Jonestown massacre and assassinations of San Francisco Mayor George Moscone and Supervisor Harvey Milk in 1978. In later years, he covered the Loma Prieta earthquake, in 1989.
After retiring in 1992, Bullock collected vintage cameras and old TV news editing equipment. He was also very proud of his beloved 1969 Ford Mustang.
Bullock is survived by his children, Candice, Bob and Georgette, grandchildren and great-grandchildren.
The memorial gathering will be held on Sunday September 22, 2019 at the San Mateo Senior Center at 2645 Alameda de las Pulgas (between Portola Dr. and Buena Vista Ave.) in San Mateo from 11 a.m till 2 p.m.
To read our May 2012 Gold & Silver Circle Profile, spotlighting Bullock, click here.