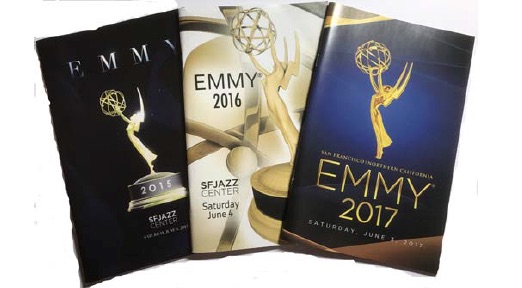 EMMY® GALA PROGRAM SALUTATIONS  
The collectible Emmy® Gala Program is distributed to more than 500 media professionals and is often saved as a keepsake.  Ad opportunities start at $200 for a  business card size ad.
Order Deadline Friday, May 4
Artwork Deadline Friday, May 11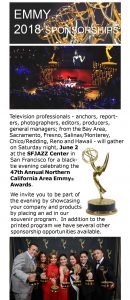 For Souvenir Program ad specs and other info,
click to view the full Brochure
Extensive Sponsorship Opportunities also on our Website here. 
Each Sponsorship package can be customized to fit your budget and promotional needs.  We offer various other sponsorship opportunities including – but not limited to – a televised commercial campaign.  One of our Board members will be happy to discuss.
For 2018 Emmy® Awards Gala promotional presence at the SFJAZZ Center on Saturday, June 2, contact office@emmysf.tv or (415) 777-0212!

Back to April  "Off Camera" INDEX page…