By Steve Large
CBS Sacramento, Guest Contributor 
---

Shawki Moore looked at the world with wonder. He wanted to know what made people the way they were? Why was this, like that? How does that work? He died in January, after suffering a stroke on the job six months earlier. It was not his first stroke and he had wondered why he survived an earlier one.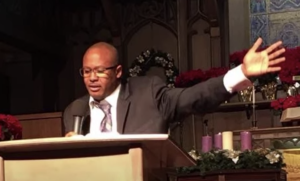 He even posted his own personal PSA about strokes to his Youtube page. It's a gift that he left all of us, sharing his straight-to-the-point perspective on life and death.
The video, on such a serious subject, showcases Shawki's gift for gab, and silliness. And of course has a huge impact, especially following his death. 
Shawki was unique in this world because he carried his wonder for it in all his conversations. He made friends inside the newsroom and out because he was willing to let his guard down. He was willing to be vulnerable. He did not worry about rejection.
He embraced people.
We were teamed up together many days over our 15 years at KOVR-TV. He had many layers. Family man. Friend. Photographer. Philosopher. He received a masters in theology.
Shawki leaves behind a beautiful and caring wife Afiya and his loving children Jordan, Shawki, Dylynn, Keziah, and Solomon.
Also his parents Linda J. Bangora-Moore and La Rue "Shawki" Moore.
He was a great man and he is gone way too soon. Leaving us all to wonder, why?