On the eve of Summer vacation students, friends, family, and faculty paraded into the Odell Johnson Performing Arts Center on Oakland's Laney College Campus. There they witnessed 35 features produced, written, directed and acted by students in the Media Communications Department.
Department Co-Chair and SF NATAS Chapter President Steve Shlisky says that: "For the third year in a row these budding filmmakers get to see their work on something bigger than a computer monitor", Shlisky adds, "For these students, this is the biggest crowd experiencing their work in one place. They get to see if the audience laughs in the right places." Shlisky further encouraged the students to apply their works for NATAS Scholarships consideration. The deadline extended to June 7th.
"It's amazing seeing it on a big theatre screen" says Media Portfolio student Joanna Samuels "it looks so different on a life size screen." After two years in the Laney program Samuels has an opportunity to move to New York and work as a production assistant. Beginning Video student Brendan Howesman produced his first ever feature – a comedy of errors by a professor late for his class, "Making a film and seeing it like this has inspired me. I am going to make another movie."
The features run the gamut from music videos, documentaries, narratives, public service announcements, to live-to-tape studio productions. NATAS Governor Noemi Sanchez teaches the Music Video Class, "We want these students to taste the whole video making experience, from concept to the final screening."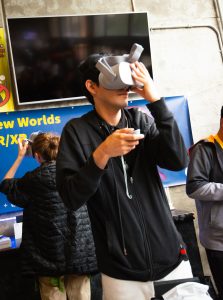 During intermission students got to see the work created by the department's newest classes in Virtual Cinema. Since these features cannot show on a movie screen, special viewing goggles were provided by the students who created the work.
Media Communications Department Co-Chair Via Cera to the opportunity of this media-centric crowd to sign them up for classes in the coming Fall Semester.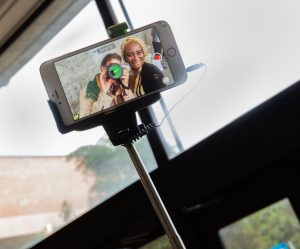 Pictures By NATAS Chapter Governor Mike Moya.