By Joyce Mitchell
Chapter Vice President, Sacramento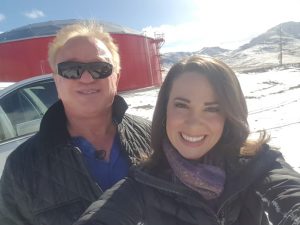 Reno, Nevada – KTVN 2 News is honored with a 2019 Edward R. Murrow Award for an exclusive report about a very private man who took a gamble in the tech industry – and won. He succeeded – building among other things the Tahoe Reno Industrial Center. Negotiating from the Shadows: Roger Norman was the only television story in the Reno area to receive a Murrow for outstanding achievement. Anchor/Reporter Arianna Bennett, Executive Producer Zac Mooney and Chief Photographer Gene Vance were honored for their work on the story. The feature also received 2nd place in Best Feature Story Associated Press Television and Radio (APTRA) Awards. APTRA wrote, "It was clearly a team effort with a lot of time, energy and resources put into completion. Management deserves kudos for dedication to putting out a thorough well-done story. Clearly a winner.
---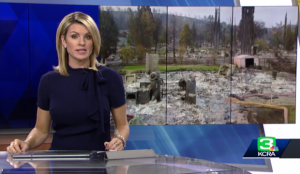 Redding/Chico – KRCR 7  – A year after the station reported a story about a fire breaking out in the small Butte County community of Bangor near Paradise, CA, KRCR is finally getting an official response from the Butte Cal Fire Chief. He said that he failed to locate a blaze being covered by the station because they didn't go to the right address. He admitted mistakes, saying no one in Bangor should have been told there was not a fire there. The blaze erupted in October of 2017. Reporter Kelli Saam and Photographer  Adam McAllister are up for an Emmy® Award for their work on There's No Fire in Bangor. Again, the Emmy® Gala is a few days away – June 8th at SF Jazz. TV making a difference.
---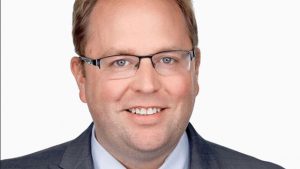 San Francisco – KGO TV has a new assistant news director starting in June. Josh Hubbard comes from KHOU in Houston. "Happy but also sad," Hubbard tweeted. "I'm leaving KHOU in June to join the amazing team in San Francisco @abc7bayarea. We've been through so much together in Houston, covering every story imaginable. I'm excited for the future, but sad to say goodbye.
---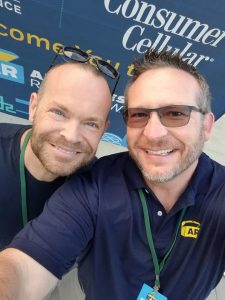 Sacramento – PBS/KVIE Channel 6 – People lined up to get their treasures evaluated and appraised when the Antiques Roadshow arrived in Sacramento. KVIE photographed the episode hosted by the Crocker Art Museum in middle of May. More than three-thousand antiques and collectibles were evaluated by experts. Program Host Rob Stewart and General Manager David Lowe were on hand to meet, greet, and oversee the event. The episode will air in 2020. By the way, this year, KVIE is nominated for eleven Emmy® Awards.
---
Sacramento – CBS 13 – Longtime reporter at Good Day Sacramento Tina Machua is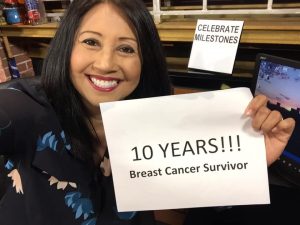 celebrating. "I'm so happy and grateful to be here," said Tina. She's celebrating being 10-years cancer free. A breast cancer survivor, Tina said that many people have played a part in her healing and growth. "I'm so thankful to each person – even those that didn't know they helped me! It's important to have support. It's important to reach out. It's okay to be scared and have questions. It's okay to feel what you're feeling. Get your mammograms."
---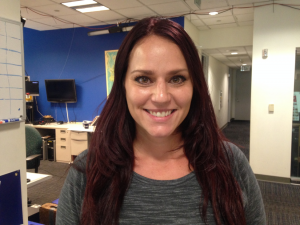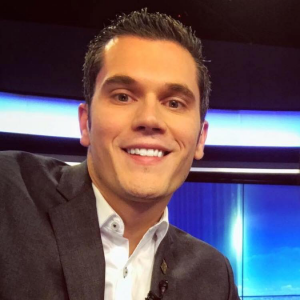 Honolulu, Hawaii – KITV4 – A fresh face is welcoming morning viewers at KITV. Good Morning Hawaii has a new weekend anchor. He's Tom George who's moving from KTNV in Las Vegas where he was weekend morning anchor. More additions for the station. KITV welcomes Amy Metz as a producer. She attended University of Hawaii and got her BA degree from University of Southern Alabama in Meteorology.
---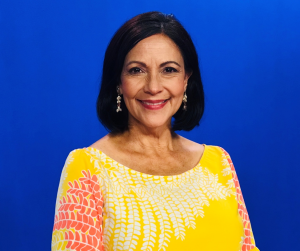 Honolulu, Hawaii – More big changes for KITV. Anchor Paula Akana is leaving the station after more than 30-years. Her next job is one that is truly royal. Akana is becoming executive director of the Friends of Iolani Palace. She begins July 8, 2019. Iolani Palace is the only royal palace in the U.S. It was built in 1882 for its then reining monarchs but is now a museum. "I am humbled and honored to be asked to help lead the Friends of Iolani Palace," said Akana. "The palace has always held a special place in my heart. I want to mahalo KITV for allowing me to share stories of the palace and our Hawaiian culture for the past 35 years." Station General Manager Jason Hagiwara said that she will be missed but wishes Paula well. "The diligence, passion and grace that Paula has brought to her job each and every day for the last 30 plus years is rare and special," said Hagiwara. "While we will miss her, we are excited for her and wish her well in the next chapter of her journey."
---