by Joyce Mitchell
Chapter Governor, Sacramento

Reno – NBC Fox 11 – The "biggest little city in the world" is standing Olympic proud. Reno resident David Wise competed this year in PyeongChang. He's stood on the top of the halfpipe podium since early 2011 receiving a myriad of medals. He won Olympic gold in men's freestyle skiing four years ago at the Olympics in Sochi. "People are watching our station and the Olympics," said Fox 11 General Manager Amie Chapman. "Our audience viewership is 38 percent higher through 11:30 PM." Fox 11 Sports Anchor/Reporter Alex Margulies closely follows Wise. See more about Reno's pride and joy in a report by Margulies. "We're seeing a huge appetite for patriot spirit," said Chapman.
Eureka – NBC's KIEM viewers using Spectrum as a cable provider were out of luck if they wanted to see the Olympics or Super Bowl this year. A contract dispute between Spectrum, formerly Time-Warner, and Northwest Broadcasting, owner of KIEM, blacked out viewing for several stations across the country including KIEM — starting February 2, 2018. Phones were ringing off the hook at KIEM with disgruntled viewers. However, it's out of the hands of KIEM. The station is broadcasting, but the programming is not being distributed by Spectrum. Northwest said that people could watch if they went out and bought an antenna. Spectrum claims Northwest is demanding unreasonably high fees to carry programming while a statement from Northwest blasted Spectrum's fees for their packages.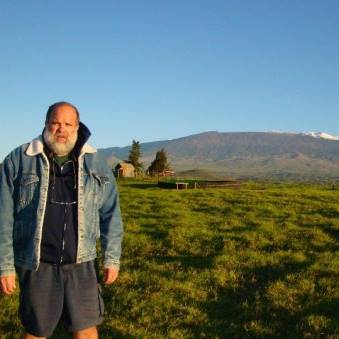 Honolulu – CBS affiliate KGMB has lost a legend. Former director of photography Ward Kahekili Bray recently died, one month shy of his 63rd birthday. "Ward was without peer in the studio," said Producer Robert Pennybacker. "He would paint incredible mindscapes. The master of soft light and bounce boards, he knew better than anyone how to make people look good. If the spirit moved him, and it usually did, he would create magic."
Reno – CBS Affiliate KTVN Channel 2 Anchor/Reporter Landon Miller blends in among his class and is determined to give back. In addition to working at the station, 24-year-old Miller also teaches a TV production class at the University of Nevada, Reno. In the photo, he's in front wearing the blue sweatshirt. Kind of hard to pick him out as the instructor – since he looks about the same age as his students. Landon started as a weekend video journalist at KTVN, became the morning show general assignment reporter, and two years ago was promoted to the main anchor spot anchoring the evening news Monday through Friday. He knows he gets to keep all he's achieved – by giving it away. Mentoring. Landon Miller NATAS Board of Governors Bio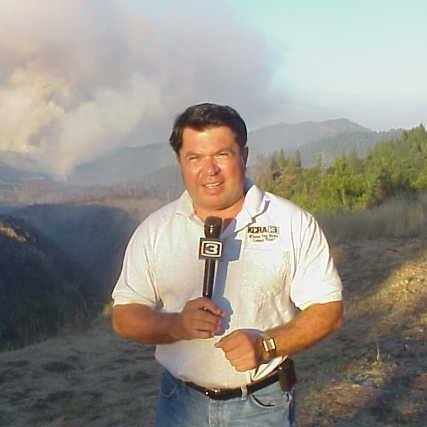 Stockton/Sacramento – Former KCRA Reporter Rich Ibarra is now a Contributing Central Valley/Foothills Reporter for Capital Public Radio. Ibarra was born in Stockton but raised in Sacramento. Given his roots, Ibarra started as Stockton bureau chief for Sacramento's ABC station, then called KXTV, in 1977. A year later, he joined CBS/KOVR 13 as a reporter. Then he joined KCRA 3 in 1980 where he stayed for thirty-one-years, covering primarily the Stockton/Modesto region. Ibarrra retired from TV in 2011, but can't seem to stay away from news. Ibarra says that radio reporting is a little easier, "simply because you don't have all the equipment in the field." In his spare time, Ibarra enjoys coaching tennis, and is living proof that there is life after TV news!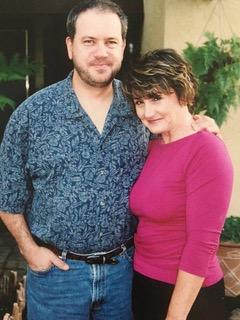 Sacramento –Big Table Media Editor Jim Eckes and his wife, Independent Documentary Producer Suzanne Eckes-Wahl, juggle big time. Eckes works on a variety of national cable TV programs, and Eckes-Wahl is a social activist who weaves together historical documentaries. They often work from home and while making TV supports the household, it's actually run and dominated by two Harlequin Great Danes. Mia is a rescue and weighs 140 pounds. Her companion Dash is a little smaller, weighing-in at 125-pounds. The dogs somehow configured themselves on the couch in the shape of a heart. That is truly some Big Love. Now, from Mia – a toast that everyone had a Happy Valentine's Day!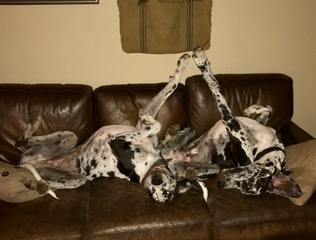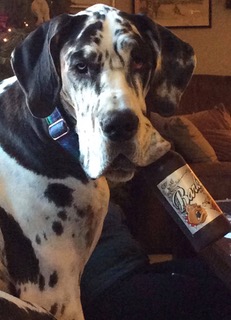 Back to "Off Camera" Index page…