By Julie Watts
"CBS13 Investigates" Reporter, Sacramento
2020 Emmy® Awards Chair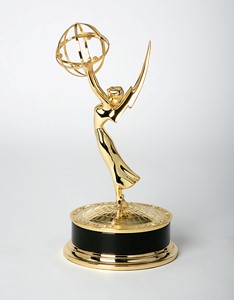 It probably goes without saying, but the 2020 NorCal Emmy® Awards season is sure to be unlike any other.
Key Emmy® Dates:
May 6 – Nominations Announced – 8am on EmmySF.tv
May 16 – Upload deadline for acceptance entry clips/speeches
June 6 – LIVE Emmy® Awards Virtual Gala at EmmySF.tv – 7pm
We're just a few days away from the official start of Emmy® season which begins with nominations on Wednesday, May 6th. You'll find the list of the 2020 NorCal Emmy® nominees on the website EmmySF.tv at 8am.
Then it's on to the Emmy® Awards Presentation!
We had planned to hold this year's Emmy® Gala at the Hilton San Francisco Union Square – to return to a glamorous dinner ceremony as we last had in 2014.
While we wish we could gather in person this year, the Emmy® Gala Committee members have been working hard (from home) to produce a virtual awards show for you with as much elegance and camaraderie as possible.
Our show will be streamed LIVE at 7p on Saturday June 6 on EmmySF.tv, Like many events and broadcasts these days, we will be crowdsourcing content, and will include a Zoom room.
More details about how and where to attend our LIVE Emmy® Awards Virtual Gala will follow the May 6 nominations.
In the meantime, it's time to start thinking about speeches!
Crowdsourced Entry Clips / Speeches:
This year, 15-second excerpts from winning entries will be "broadcast" after winning names are announced.
Since we won't be able to gather in person, in lieu of LIVE speeches, we're asking nominees to submit a video with one acceptance speech per entry. Feel free to get creative, get dressed up, include the whole family applauding – produce something fun…
Nominees will get additional instructions via email after nominations are announced, but start gathering your clips and writing your speeches now!
The Suggested Format:
· 15-Sec Excerpt From Your Entry
· 30-Sec Acceptance Speech
We're asking nominees to edit their own clips and submit just one, pre-edited 45-second segment per entry. You don't even have to stick to the suggested format (i.e. 15-sec entry excerpt/30-sec speech). You can use your 45-seconds however you'd like!
The hard-and-fast rules:
· 45-second max TRT
· Upload deadline May 16
Clips that are uploaded after the deadline (or that are longer than 45 seconds) will not air. And remember, if you're shooting your speech on your phone, hold it sideways! (landscape, not portrait)
Audience for the LIVE Emmy® Awards Presentation:
Our virtual Emmy® Gala will be streamed at EmmySF.tv and on social media for all your friends and family around the world to watch. We'll also be inviting the nominees to gather and watch together in a Zoom room.
Plan on having two devices/screens ready for Emmy® night — one for watching the main show and one for hanging out on Zoom with your fellow nominees.
You're encouraged to dress up for the event (at least on top). In keeping with tradition, we'd love for you to break out your suits and gowns (though slippers are fine).
Social Media:
On nomination day and Emmy® Night, don't forget the post on Facebook, Twitter, and Instagram using #EmmySF2020
We'd love for your to post an exciting nomination note on May 6th — and share your acceptance speeches after you win on June 6th — with the #EmmySF2020
Key Emmy® Dates:
May 6 – Nominations Announced – 8am on EmmySF.tv
May 16 – Upload deadline for acceptance entry clips/speeches
June 6 – LIVE Emmy® Awards Virtual Gala at EmmySF.tv – 7pm
(SCOOP: We plan to return to the Hilton San Francisco Union Square for a fabulous in-person Gala in 2021!)