By Steve Shlisky
Activities & Programs Chair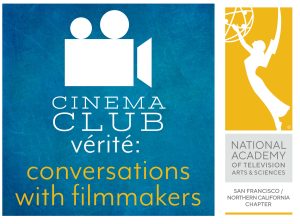 The third installment of the Chapter's Cinema Club vérité featured the unique blend of Opera, Social Activision, and filmmaking. My conversation with Opera Frontier's Gail Simpson included screenings of three of her short features and pictures from her past work. This lively discussion glimpsed at the emergence of a new filmic voice attempting to expand video genres. This hour-long discussion documents Opera Frontier's 17-year history of performances and transitioning into short features and maybe a future full length film. The organization is staying true to their slogan "Moving Opera in ways you never imagine"
Gail's features are part music video, part documentary, part social commentary. According to Gail, her recent foray into film festivals proved challenging: "I considered them music videos but they didn't look anything like what must people imagine a music video's going to look like". Gail adds: ""Activist Aria" it's kinda a documentary in that it relies so much on the historical events and images and so it has been sort of confusing to figure it out."
The categories which Gail has been recognized for are: Best Experimental Film, Best Music Video Song, Best Operatic Music Video, and Best Art Music Short. Gail suspects that festival judges invented categories to acknowledge her films.
Gail's two newest features "Activist Aria" and "Rejoice Abyssinia" have been making the film festival circuit to wide acclaim.
"Activist Aria" has already received awards in France, Italy, India, and here in the US.The six minute short repurposes a frothy Strauss aria (Klänge der Heimat from Die Fledermaus) to reflect America's profound and self-evident need to be "more perfect". It draws on both the appealing vision and the harsh reality of America, within which we find hope for our country's future. Winner of several awards, including most recently an Anthem Award for "Human & Civil Rights Awareness".
For 2019's "Rejoice Abyssinia" – Opera Frontier went to Addis Ababa Ethiopia in January 2019 to collaborate with Circus Abyssinia. This piece features western classical music and circus arts, fused with traditional Ethiopian instruments and dance. For the collaboration, Opera Frontier repurposed an aria from Handel's Messiah (Rejoice Greatly) with lyrics that place the four young women — Ethiopian circus artists — at the center of an empowering scene.
Opera Frontier purports to delight opera fans and opera-phobes alike. They faithfully excerpt from traditional scores and strive for technically excellent singing. Gail admits to taking outrageous liberties in the service of engaging their audience in unexpected ways—through radical changes of context and casting, and through the introduction of elements from dance, popular culture and contemporary beat. In this way, Opera Frontier redefines the way audiences experience this glorious music.
Founded in 2007 by Artistic Director Gail Simpson, Opera Frontier is a virtual opera company that produces full-length shows, as well as stand-alone performance pieces and pop-up opera events.
Gail says: "The idea for Opera Frontier came to me while daydreaming in Roger Dillahunty's jazz-blues dance class.
 Instead of concentrating on his routines, I started wondering how I could combine my affection for musical theater with my passion for opera."
I decided to explore the idea of an opera company that created new works from the familiar repertoire by re-imagining the context for contemporary audiences. I definitely wanted to sing Lucia, only not as a 16-year-old pawn in a 17th century power struggle! So I decided to recast Lucia di Lammermoor and other powerful music in situations that relate to our everyday lives—from office politics and gym workouts, to power shopping and even navigating the global economic meltdown.
Introducing theatrical choreography meant recruiting singers with impeccable vocal technique who were also willing to dance to the edge—or frontier—of their comfort zones. Luckily, such singers have enthusiastically come forward to relish the challenge.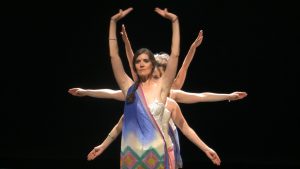 Within our body of Opera Frontier's work are pieces that combine opera with ballet, hip-hop and tango, along with classical Indian, Middle Eastern and even Bollywood choreography. 
We believe that under the right circumstances, classical repertoire has the power to stir emotions and transform lives just as deeply as any other theatrical experience.