Sacramento ABC 10 – Viewers noticed a change in the airwaves when KXTV launched into a different look of storytelling a few years ago. Anchor and reporter changes were made as the station retooled its news broadcasts, including fewer live shots in broadcasts and more social media involvement. Anchors and reporters who had been known to viewers for decades were let go. Samantha Cohen led the charge back in 2016. She was initially hired by the station to oversee digital. Then a year later, she was promoted to the role of lead digital content editor. That's essentially a news director position. Now, Samantha has left News 10 and Jill Manuel, who worked in Chicago, is taking over. Cohen left the station to take a job at Rocky Mountain Public Television in Denver as chief content officer. Manuel has served as news director for at least three different TV stations in the Midwest including WGN-TV. In a Facebook post, Manuel said, "I am thrilled to be back in a newsroom full-time!"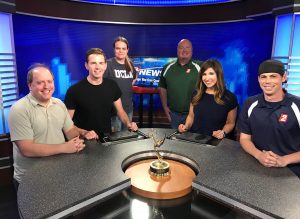 Reno KTVN 2 – A graduate degree is an invaluable tool to have. It may not get you more money but it will advance critical thinking. KTVN Anchor Landon Miller wants that educational opportunity. So, he's decided to step-away from the role of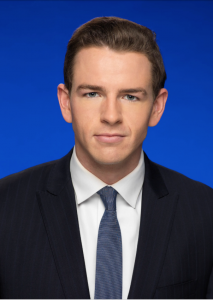 main anchor and go back out into the field as a reporter. "After putting a lot of thought into this, I've realized I'd be happier focusing on more original reporting, telling the stories of our community," said Miller. He said that the change will also allow him more time to pursue an MA Degree in Spanish. He said it's a personal goal that would be difficult to achieve with his required main anchor duties at Channel 2 News.
Bay Area KTVU – How time flies! Channel 2's Sports Anchor Mark Ibanez celebrates 40-years at the station. That's a lot of time anywhere – doing anything. But in especially in TV news. By the way, SF NATAS Governor Don Sanchez did that at KGO 7 before retiring in 2012.  Congratulations to Ibanez on 40-years – and to Sanchez as he travels the world during his retirement.
San Francisco KGO 7 – Mindi Bach is receiving an outpouring of support as she takes on a new job as director/sports PR for Oracle. She left the weekend sportscaster gig at KGO-TV as opportunity called. Prior to Channel 7, Mindi spent nearly a decade at NBC Sports Bay Area. She has an MA in Journalism from North Western.
Bay Area KNBR – More sports news. Gary Radnich who was inducted into the Bay Area Sports Radio Hall of Fame in 2010 is retiring. The announcement was abrupt and unexpected. In a tweet, Radnich said, "Plan was to retire at the end of the year but with my 70th birthday ahead it makes sense now. Thank you audience for 36-years of TV-Radio!" The San Jose native left San Francisco's KRON last year where he spent 34 years delivering off-the-cuff observations about the local sports scene.
Fresno ABC30  – Another TV long timer Gene Haagenson is calling it a wrap. The KFSN reporter is retiring from a 40-year career in journalism. As a member of the Fresno Action News Team for three decades, he's covered everything from Presidential visits to immigration to local government. On July 5th – the City of Fresno proclaimed it to be "Gene Haagenson Day." What's next? Traveling and time with grandkids.
Sacramento/Fresno – Adolfo Segura is named KCSO (Sacramento)-KNSO (Fresno) news vice president and will oversee those Telemundo stations. He's leaving a job at KVDA in San Antonio Texas to assume responsibility for the two newsrooms, including all multiplatform operations. Segura will report directly to Telemundo President and General Manager Jose Suarez.
Hawaii KITV – The ABC afilliate KITV is rolling out a new 6 and 10 PM anchor lineup. Brenton Awa and Mika Miyashima have joined Sports Director Brandi Higa and Meterologist Pete Caggiano on the anchor desk. "Brenton and Mika a bring a fresh look to our evening newscasts at KTV4 Island News," said News Director Janice S. Gin. "They are familiar and trusted faces in Hawaii. They are respected for their years of work on-air, telling stories of importance and significance to a local audience. I am thrilled to pair these two talented journalists at our anchor desk and start our next chapter of service to the community."
Hawaii KITV – From Burlington, Massachusetts, KITV gets yet another fresh face to report the news. TJ Hogan will be out in the field covering stories for the station. He previously worked at WENY TV in Elmira, New York where he reported both news and sports. He graduated from Ithaca College in NY, a small liberal arts school. On assignment, Hogan is seen here interviewing Honolulu Chinatown advocate Chu Lan Shubert Kwock. Wishing you well on your new island endeavor!