By Steve Shlisky
Program & Activities Chair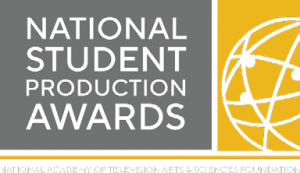 For the second time in five years the Chapter has received the most wins in NATAS' National Student Awards. Local high schools bundled up six awards duplicating the feat from 2018. Over the five years of this competition our Chapter has won 22 awards competing against the best of the other 18 Chapters across the country.
Recipients were announced in New York City on Thursday, February 11, 2021  during a virtual ceremony hosted by ESPN Sports television personality, Gary Striewski. The National Foundation of NATAS presents this competition annually which includes more than twenty programming and craft categories honoring student productions from across the country. The event was live streamed on the Academy's dedicated viewing platform and  is now available on the web.
"The National Academy takes great pride in honoring these amazing students and congratulates all of today's nominees for their body of work as witnessed by these outstanding entries," said Doug Mummert, Chairman, NATAS Foundation.
Over 200 student productions were culled from the 19 regional NATAS chapters and selected by industry professionals and university professors to advance to the national competition.
Clovis California's Buchanan High School student advisor Daniel Pearce says: "The NATAS Student Production Awards has become so important to the students that I have started concentrating on them exclusively, as opposed to some of the local student film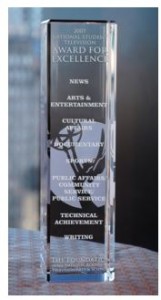 festivals.Pearce uses past national winners to inspire his students: "So all it takes is to hoist up that crystal trophy at the beginning of the school year to get those student's to dream and plan for a win of their own."
Ben Bernholdt advisor to the Whitney High School Program in Rocklin California says: "This award is important because it represents the skills they have worked on for months." Bernholdt adds: "The class lessons are transformed into a feature. Sam & Lena, their entry "Art Club" tied for the best commercial, had an incredible creative journey coming together & working creatively."
Advisor to the Honolulu Hawaii's Moanalua High School program Mark Ikenaga explains that these awards provide a: "Good opportunity to expose the students to a national competition. Hawaii is so far away but they can compete with the mainland." Ikenaga adds that many of his students go on to study media production after they graduate. Whitney's Pearce adds: "When a student wins a NATAS award, it inspires students for years to come, it provides a great talking point and conversation starter for any future interview, be it college or professional, that they may have."
"The creativity, dedication to craft and passion exhibited by this year's entries continues to inspire us as to the future of our great industry," said Danielle Mannion, NATAS Foundation Education Chair. " In addition to thanking our presenters for their assistance in producing today's program, we would also like to thank the many judges who participated in reviewing these outstanding productions."
In addition to ESPN's Gary Striewski nominees were announced by Yamiche Alcindor (PBS NewsHour), Nate Burleson (EXTRA / Good Morning Football on NFL Network / The NFL Today on CBS), Tamron Hall (Tamron Hall, Syndicated), Sheinelle Jones (3rd Hour of TODAY), Tom  Kenny (SpongeBob SquarePants), Adriana Monsalve (Univision Deportes), and Jake Tapper (CNN).
Recipients were announced beginning at 1 p.m. EDT, 10 a.m. PDT via a live web stream produced by NATAS SVP, Production, Steve Ulrich; Director, Production, Lisa Armstrong; Education Chair, Danielle Mannion and Cherie Housley, Administrator, Student Production Awards.
This year's submissions were successfully culled from over 2000 entries from the regional chapters of The National Academy of Television Arts and Sciences. Entries were judged by selected industry professionals and media academics. Nominees were announced on December 14, 2020.
"The future journalists, analysts, correspondents and entertainers of the next generation will be found among these talented young nominees represented here," said Adam Sharp, President & CEO, NATAS. "Highlighting their work and encouraging their pursuit of excellence is one of the primary mandates of our Foundation."
Chapter Education Chair Keith Sanders observes: "When you think about it, of the 24 categories, our local high schools received a quarter of al this years' awards. That is how well our high school content creators stack up against the rest of the country."
THE COMPLETE 2020 NATIONAL STUDENT PRODUCTION AWARDS WINNERS
San Francisco/Northern California Chapter Recipients (Click on Picture to view Entry)
ARTS AND ENTERTAINMENT / CULTURAL AFFAIRS
We Still Matter
Tamalpais High School
Ashalia Dawkins, Sophia Kerner, Lauren Pyfer, Talia Smith
Mike Goldstein, Mike Lavezzo, Sharilyn Scharf, Advisors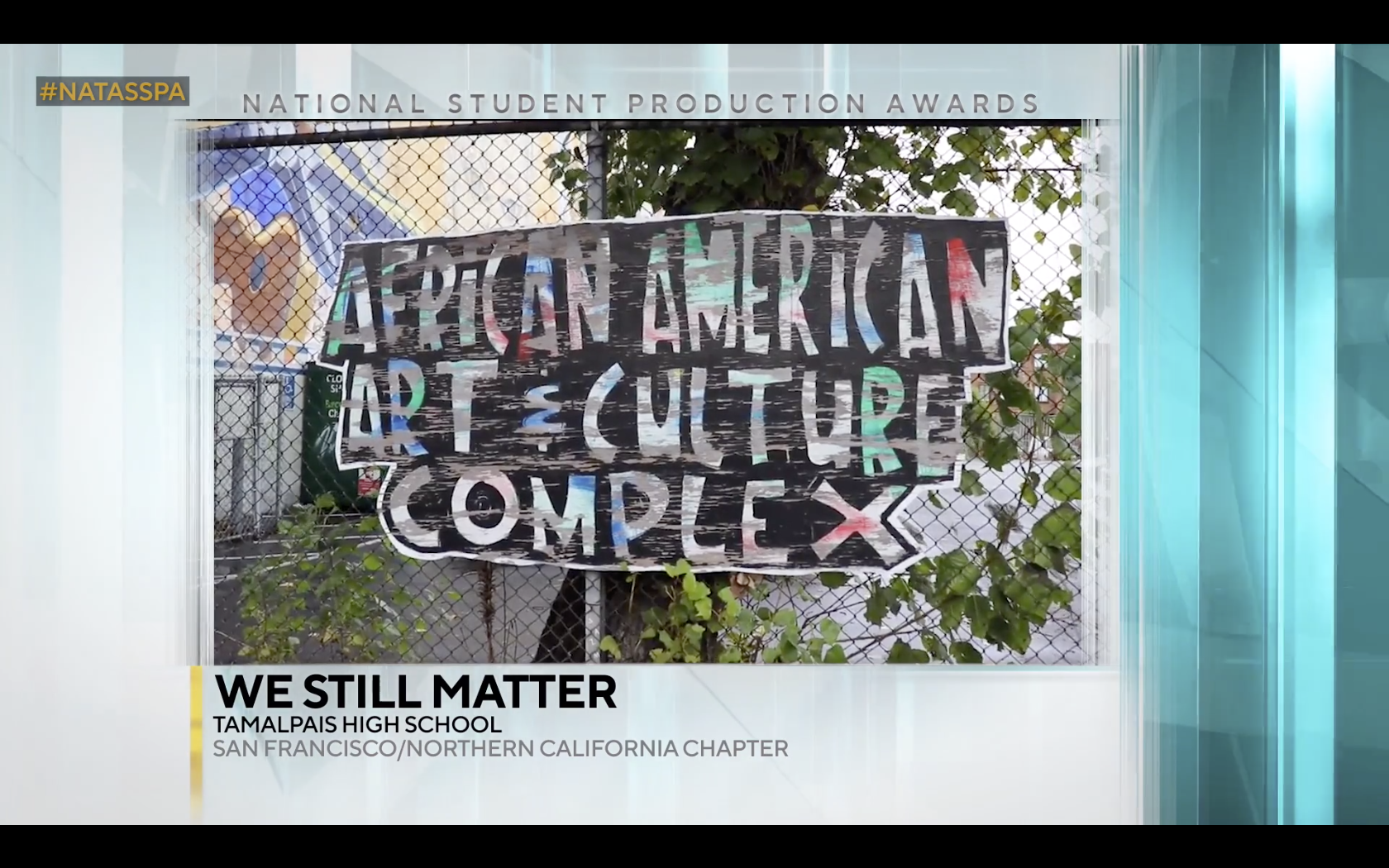 SHORT FORM – NON-FICTION
Stringing a Legacy
Moanalua High School
Zion David-Ravey, Frances Michelle Uy, Chris Cochrane, Austin Noah Ariola, Austin Zavala, Advisor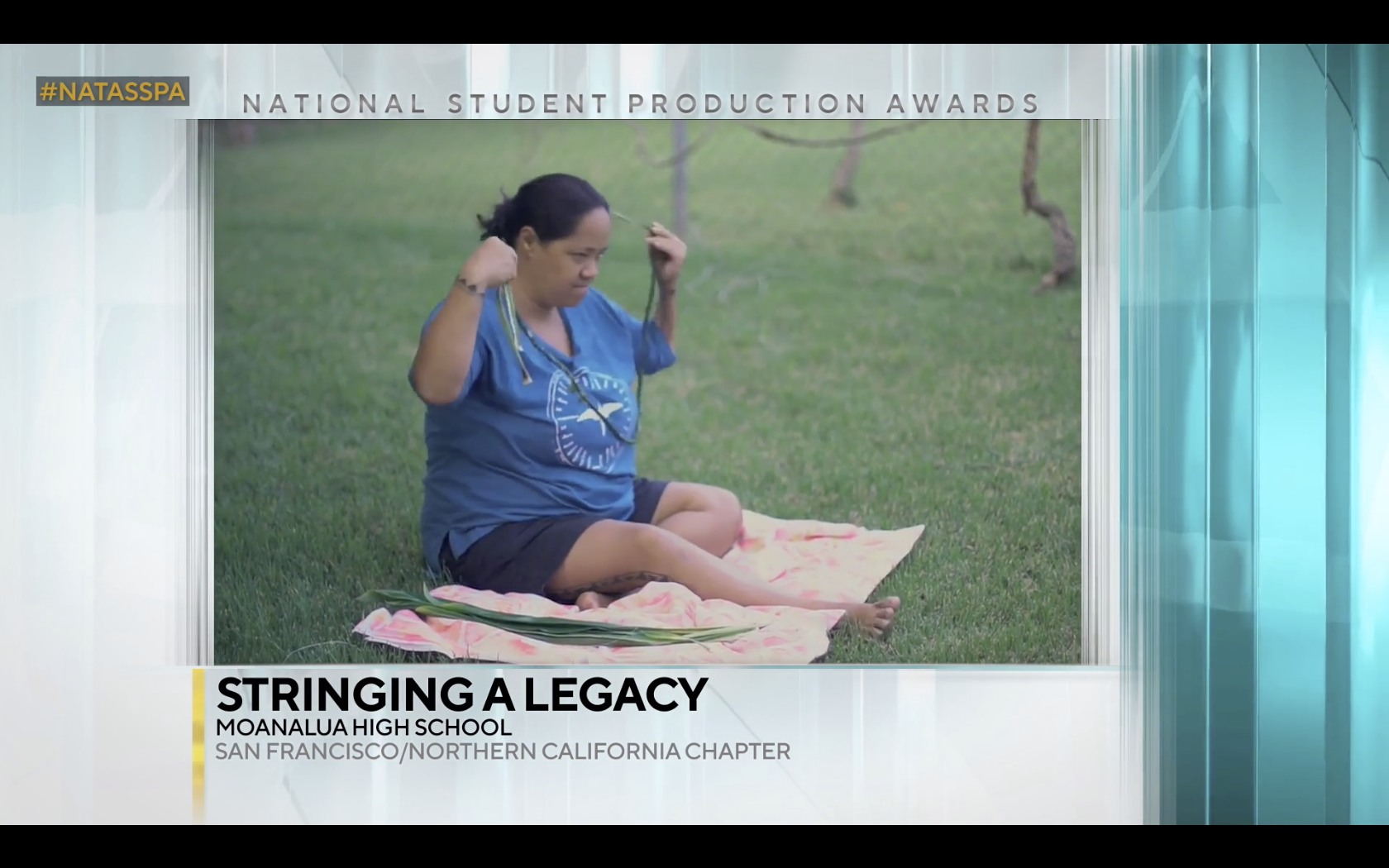 PUBLIC AFFAIRS/ COMMUNITY SERVICE
A Period Piece
Tamalpais High School
Evie Robson, Maren Curtis, Bella Ivory, Skye Schoenhoeft
Mike Goldstein, Mike Lavezzo, Sharilyn Scharf, Advisors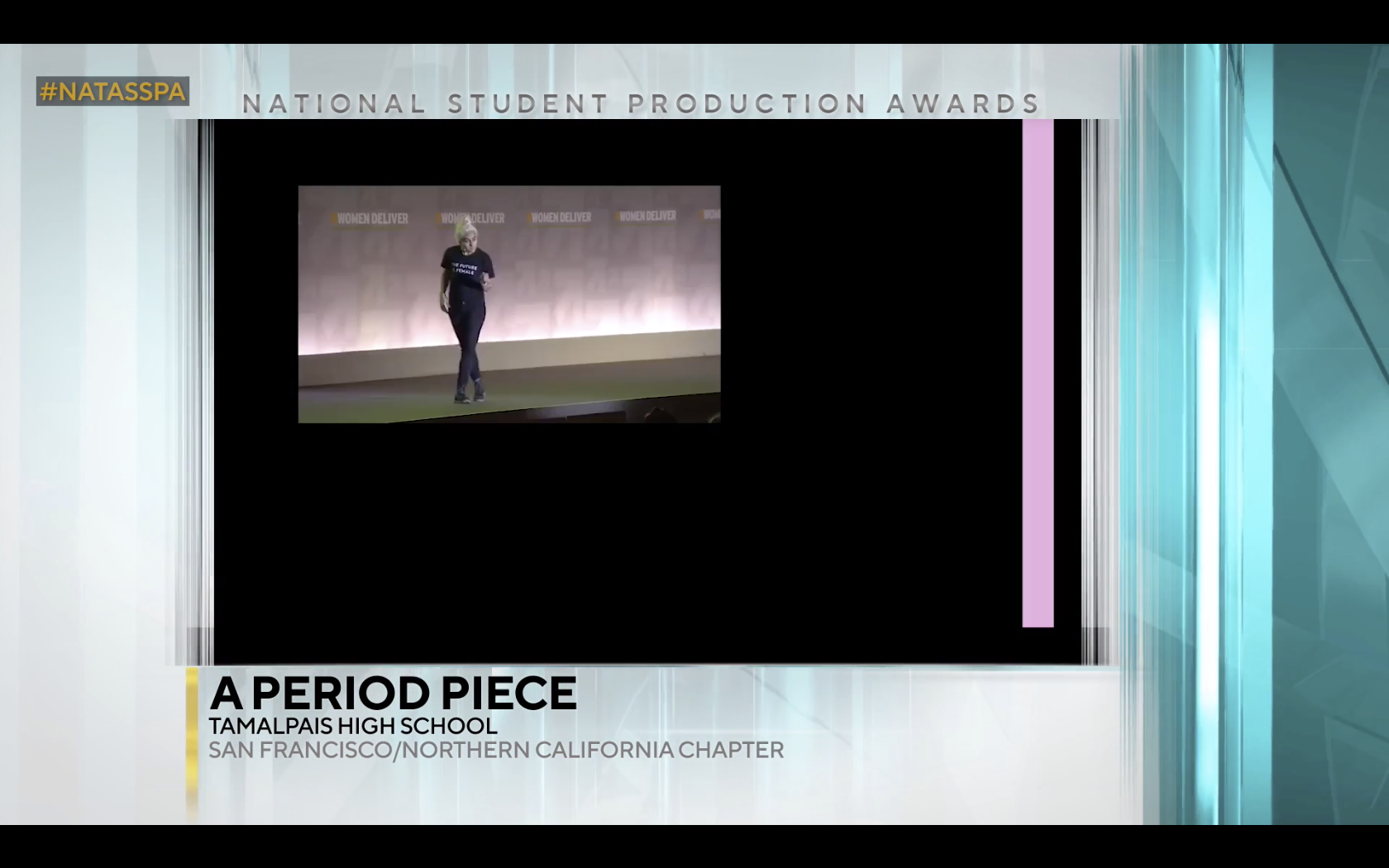 COMMERCIAL (Tie)
Art Club
Whitney High School 
Sam Berg, Lena Tang
Ben Barnholdt, Advisor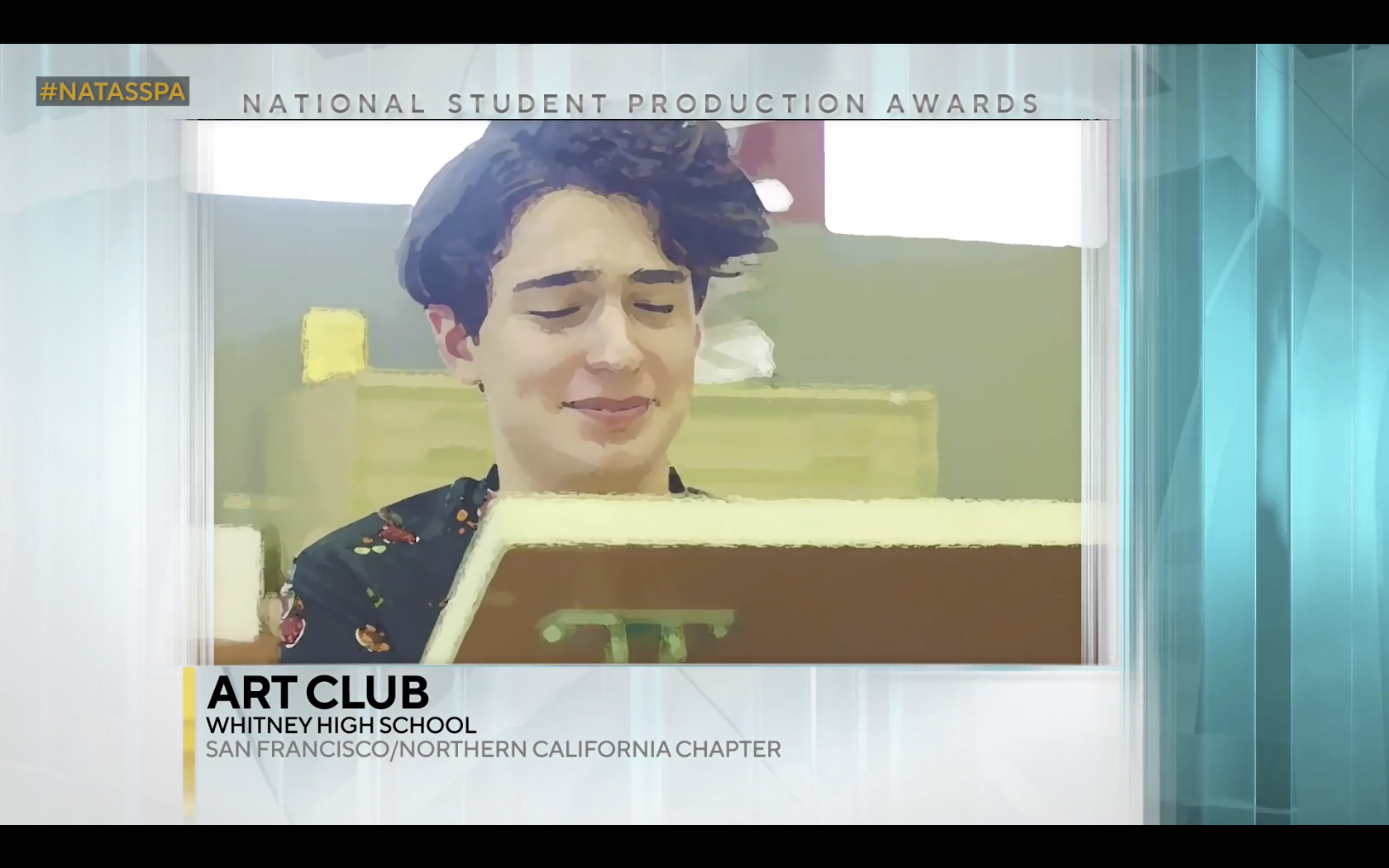 DIRECTOR
We Belong Together
Buchannan High School
Madi Barrett
Daniel Pearce, Advisor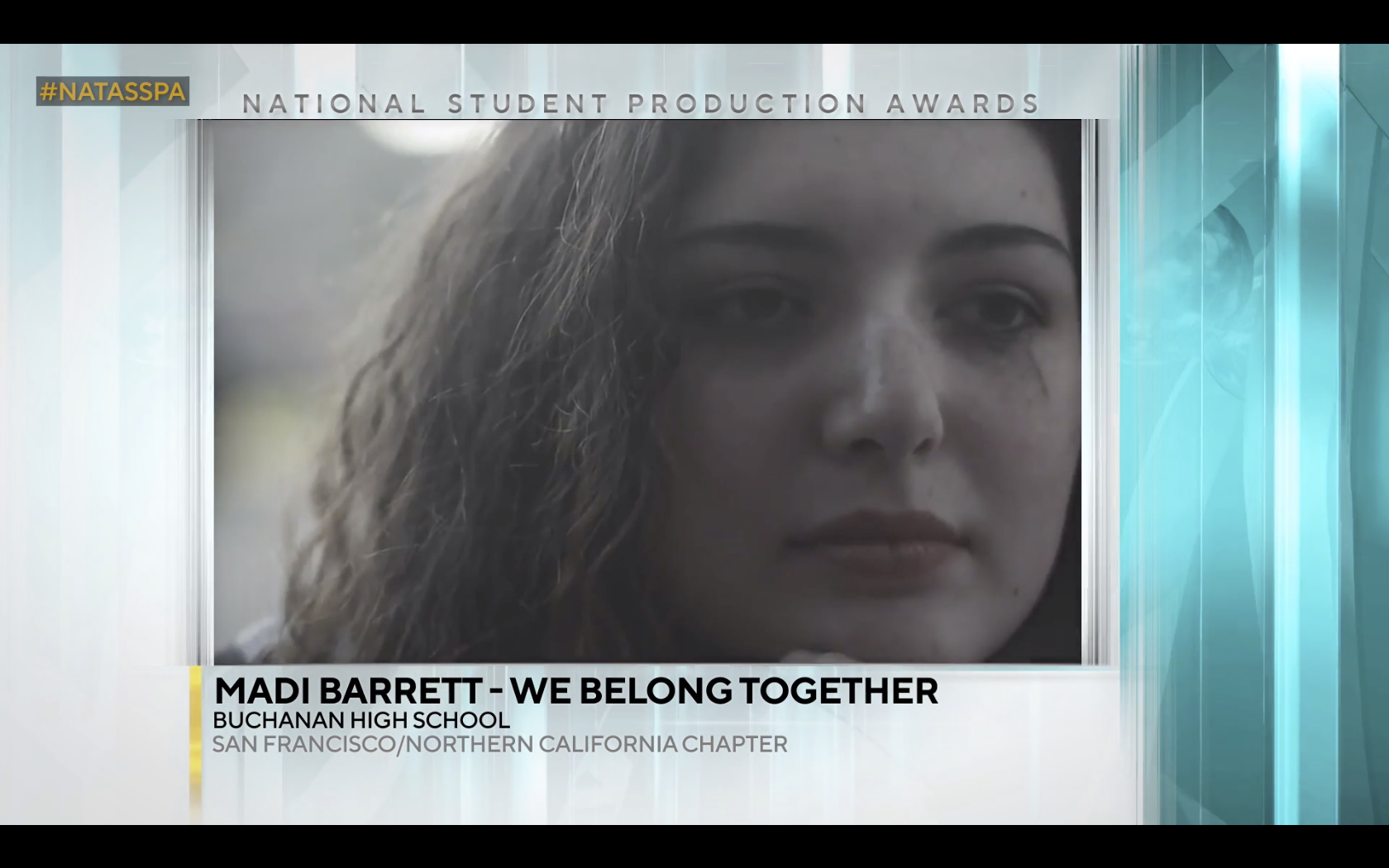 WRITING
Stargazer
Moanalua High School 
Colby Tomita, Daniel Van, DiAeris McRaven, Sara Brekke
Mark Ikenaga, Advisor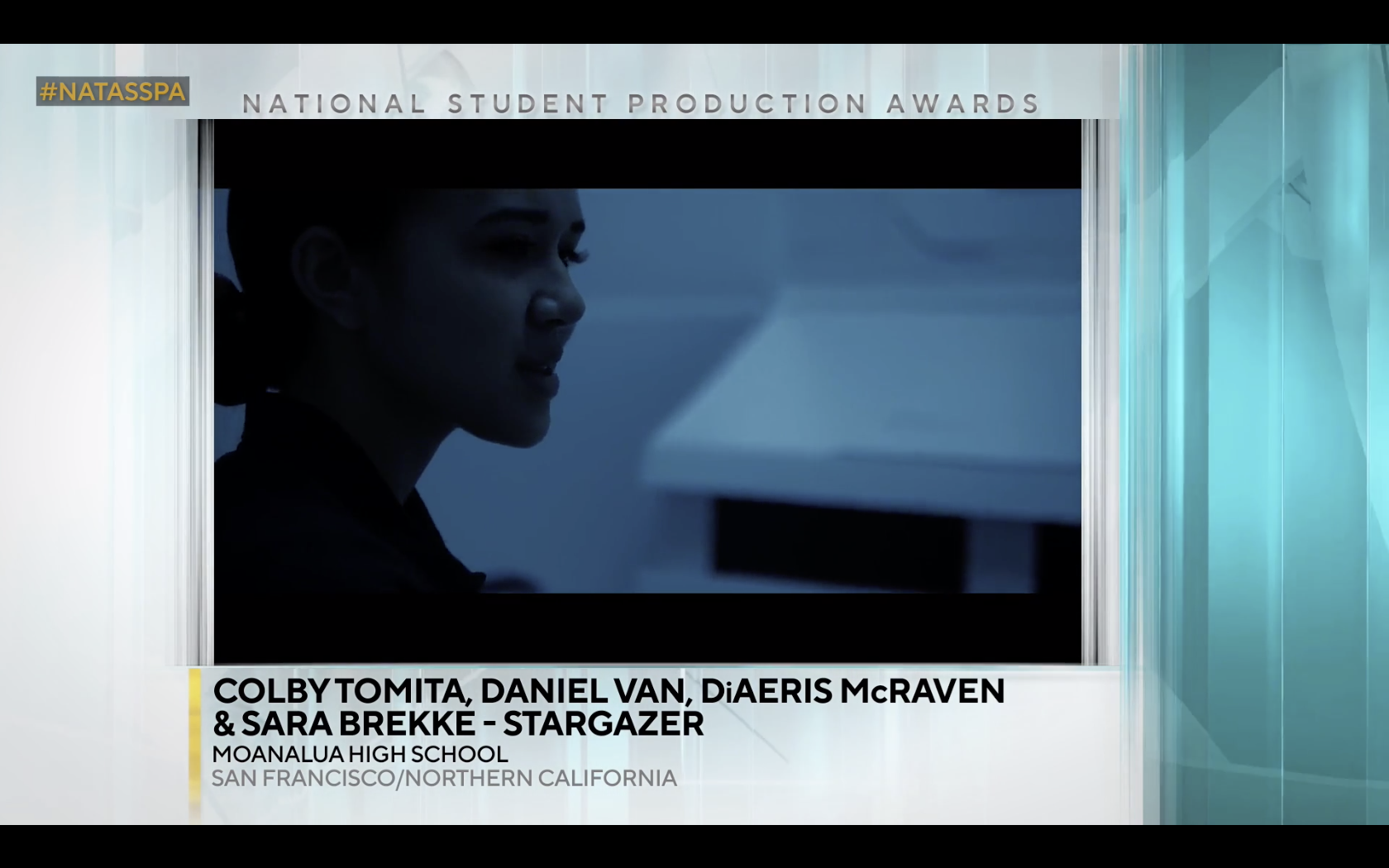 Watch the Chapter's national winners and nominees videos.
The 2021 High Chapter School Call for Entries is now open until March 15th.
Recipients from the other local Chapters
 NEWSCAST
KCBY-TV, Coppell High School (Lone Star Chapter)
Shania Khan, Kelsey Leffingwell, Fernando Cornejo, Maddie Hulcy, Vinny Vincenzo, Landon Flesher
Irma Lazos-Kennedy, Advisor
GENERAL ASSIGNMENT – LIGHT NEWS
The Hill's Second Act, Christopher Columbus High School/CCNN Live
(Suncoast Chapter)
Kevin Reyes, Marcus Callegari, Juan Pablo Garcia-Casals, Christopher Gomez, Alexander Someillan, Lukas Guerra, Gianmarco Maestri
Christina Insua, Omar Delagdo, Advisors
GENERAL ASSIGNMENT – SERIOUS NEWS
Street Sounds, Hillcrest High School (Mid-America Chapter)
Anna Daniel, Leanna Teudan
Dave Davis, Advisor
 MUSIC VIDEO
The Spirit, Newport High School (Northwest Chapter)
Navarro-Rodriguez Genaro, Calum Merry, Ryan Hansen, Karson Utzinger
Steven Hamada, Advisor
 SHORT FORM – FICTION
Somnum (Sleep), Mundelein High School (Chicago/Midwest Chapter)
Allan Rodriguez
Kent Meister, Advisors
 LONG FORM – FICTION
As Simple as Hello, Ashland High School (Lower Great Lakes Chapter)
Karson Kennedy, Dylan Counts
Brad Carr, Advisor
 LONG FORM – NON-FICTION
MSD Reflects, Marjory Stoneman Douglas High School (Suncoast Chapter)
Zakari Kostzer, Alexa Zarem
Eric Garner, Advisor
 SPORTS – PROGRAM / SEGMENT
Life on the Ropes, Newport High School (Northwest Chapter)
Taeho Cho, Aimar Azis, Aron Chau
Steve Hamada, Advisors
 SPORTS – LIVE EVENT (Tie)
Har-Ber vs. Little Rock Central, Har-Ber High School Football (Mid-America Chapter)
Nick Luttrell, Donald Tucker, Jared Park, Samantha Lewandowski, Graham Smith, Caleb Palfreeman
Travis Sherman, Advisor
WA Basketball vs. Streamwood, Wheaton Academy (Chicago/Midwest Chapter)
Wesley Kersey, Rachel Cobb, Chas Lewchanyn, Kenna Tolman
Matt Hockett, Advisor
PUBLIC SERVICE (PSAs)
A Day at the Beach, Ballard High School (Northwest Chapter)
Marley Rankin, Olivia Flego-Wirth, Sebastian Zufelt, Madison Jackson-Hite
Steven Bradford, Advisor
MAGAZINE PROGRAM
Bobcat Broadcast, West Broward High School (Suncoast Chapter)
Sebastian Ibarra
Vidal (Chuck) Rivera, Jodi Tesser, Advisor
Ashery Lane Farm, Minnetonka High School (Upper Midwest Chapter)
Katie Rohling, Drew Sigel, Christina Hansen, Cole Komisar, Michelle Senescall
Paul Olson, Advisor
ANIMATION/GRAPHICS /SPECIAL EFFECTS
Brutus – Julia Samborski, Barrington High School (Chicago/Midwest Chapter)
Julia Samborski
Jeff Doles, Advisor
AUDIO/SOUND
One Minute to Midnight – James Brammer, Claire Kilkenny, Jasper Swift, Ballard High School (Northwest Chapter)
James Brammer, Claire Kilkenny, Jasper Swift
Steve Bradford, Advisor
 EDITOR
Made to Be – Karson Utzinger, Newport High School (Northwest Chapter)
Karson Utzinger
Steven Hamada, Advisor
 VIDEOGRAPHER / VIDEO ESSAY
Michaela Short, Pinkerton Academy (Boston/New England Chapter)
Michaela Short
Donna Smith, Advisor
 TALENT (Tie)
Theodore Račkauskas, American Heritage School (Suncoast Chapter)
Theodore Račkauskas
Maria Molina, Advisor
Derryl Barnes, Jr., South Elgin High School/Beacon Academy (Chicago/Midwest Chapter)
Derryl Barnes, Jr.
Ben Erickson, Advisor
Back to the "Off Camera" INDEX page…