POSTPONED

– LIKELY TILL MARCH

DOUBLE ZOOM SATURDAY, JANUARY 23
Smaller Market Mixer – 10:00-11:30a
Mentor Match Update – 11:30a-12:30p


Members and Non-Members Invited
RSVP –https://emmyexpress.com/membership_events.php?c=7&e=67
[one link for both sessions – attend both sessions or one]

SMALLER MARKET MIXER ZOOM – 10:00-11:30a

The past has seen festive and successful NATAS Mixers in Sacramento, Fresno, and Hawaii.  Now, Smaller Markets, it's your turn!  We'll "gather" with Eureka, Redding, Chico, Monterey, Salinas industry professionals at 10am on Saturday, January 23.  As much as we'd like to rub elbows and network in person, the Mixer will be on the familiar Zoom format, to follow COVID-19 protocol.

Lexi Sisk, our Smaller Markets Vice President, will moderate the Mixer, introducing representatives from the various markets: Shane Calvert from the Redding / Chico area; Riley Carroll for Eureka; and Chris Carpenter for Monterey / Salinas.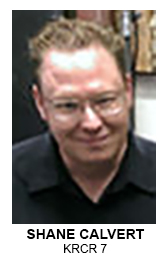 The area reps will lead individual Zoom "Breakout Rooms" by area. There will be a brief time to get reacquainted with people from your region, and time for a discussion on your region's main concerns, needs, requests, ideas, news, etc. Basically, we want to hear how NATAS can help you.
Afterwards, the three Breakout Rooms will reconvene into the main session and we'll hear some of the points discussed. A beginning to a ongoing conversation about pertinent issues and activities specific to that region of the Chapter.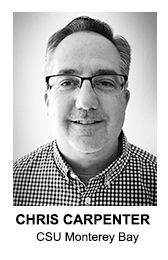 "Obviously we hope that Zoom attendees eventually become members of NATAS!" said Chapter Membership Chair Patty Zubov. "But these area-specific mixers are to help regions understand they are part of our bigger Chapter, with about 1200 total members. We're here to involve and boost everyone!"
There will be a Question & Answer period, and examples of NATAS Member Benefits.
There will be a giveaway of Door Prizes, just like in our in-person Mixers!
The Reno region and the San Francisco Bay Area will be having respective Mixers in the near future. Stay tuned.
---
Followed by:
MENTOR MATCH UPDATE ZOOM – 11:30a-12:30p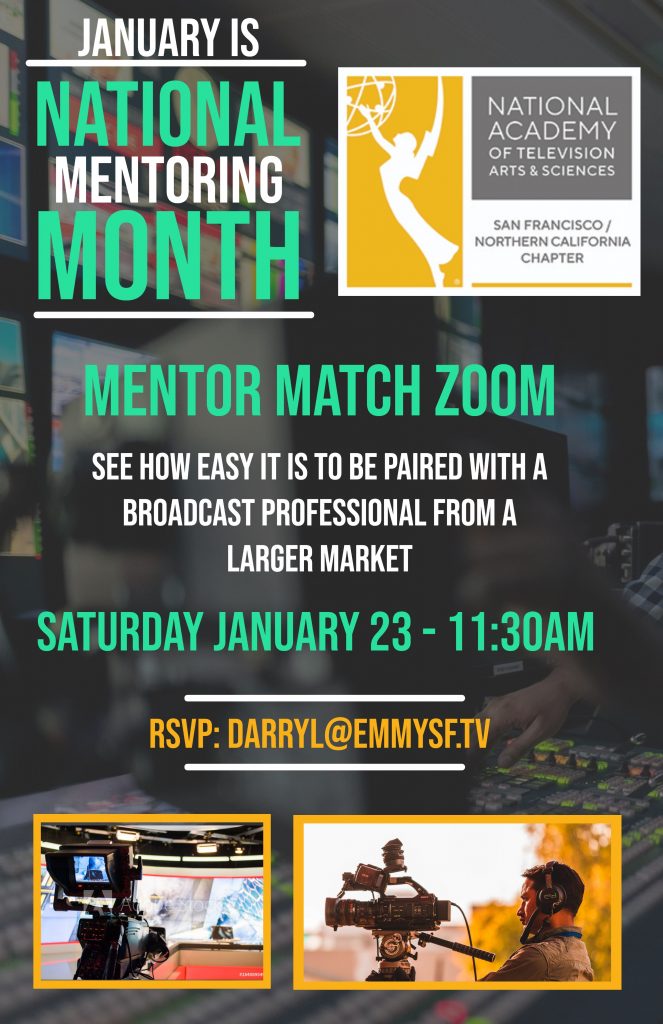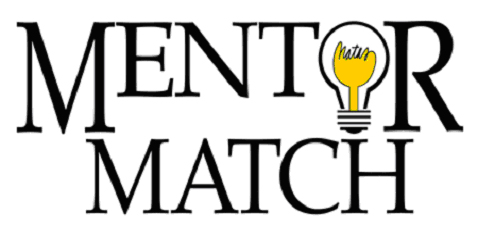 Our Chapter had a Mentorship program in past years – we're resurrecting it now. The "Mentor Match" web page explains the program further, and contains a Questionnaire to sign up, for both Mentors and Mentees.
January is "National Mentorship Month"!  And it makes sense to follow the Smaller Market Mixer with the update about the Mentor Match program. It's perfectly suited for smaller market members to take advantage of connecting with our larger market professionals. For Student Members to learn from Small Market professionals as well.
Basically, NATAS connects the Mentee with an appropriate Mentor depending on the discipline needing improvement. The two will agree on times to connect, and approximately how long the Mentorship will last. During this Zoom session, some of our past Mentors and Mentees will describe how it worked successfully for them!
As an example, we'll play a piece of video and have a Mentor offer comments and advice during the session.
Although the Mentorship program is a Member Benefit, this Double Zoom is open to non-Members as well.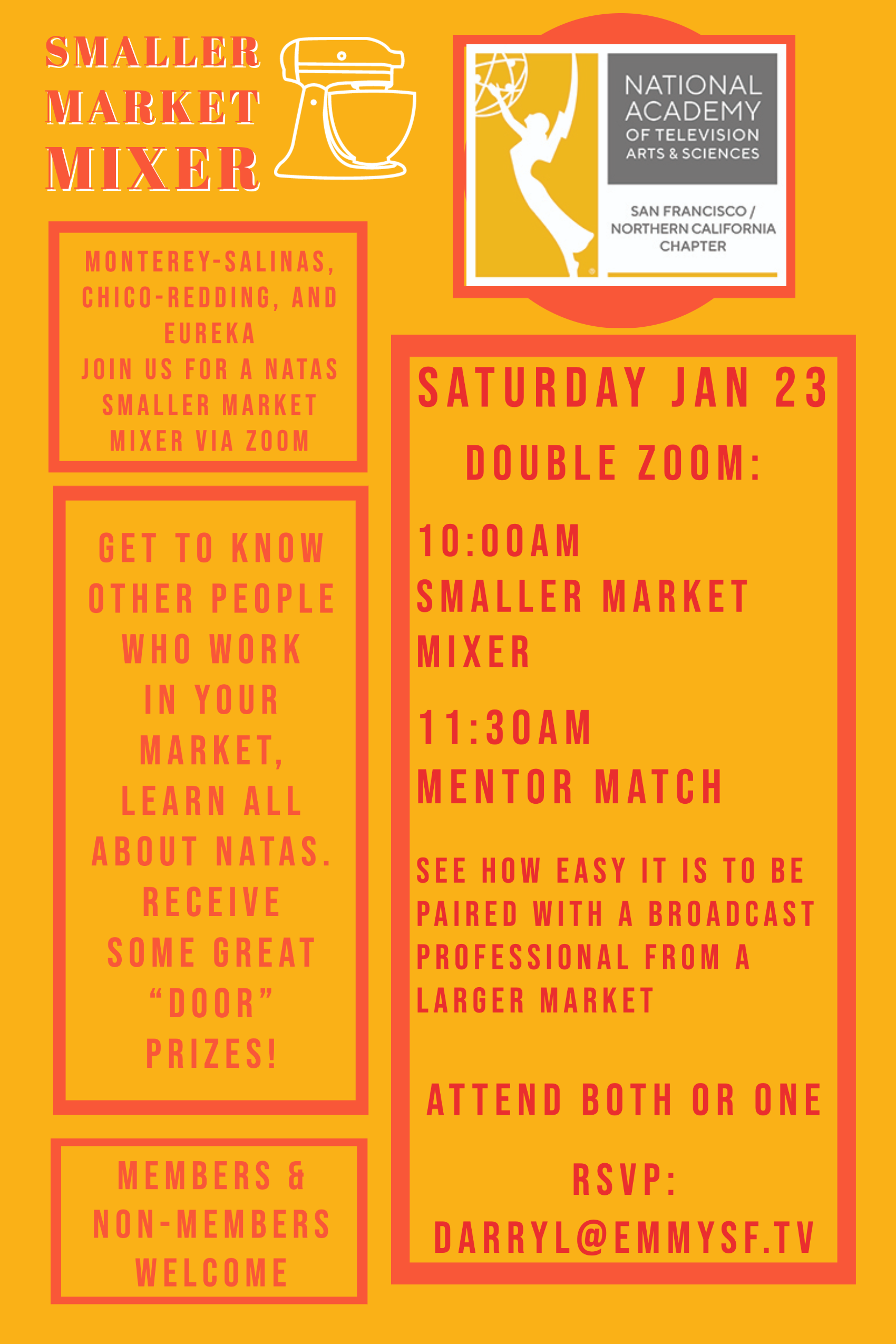 ---
RESOURCES
SMALLER MARKETS TEAM and LINKS TO BIOS:
Lexi Sisk – Iron Pine Media LLC – VP – CONTACT: lex24@comcast.net
Shane Calvert – Producer from KRCR 7, Redding
Riley Carroll – Multimedia Journalist, KAEF ABC 23 and KBVU FOX 28, Eureka
Chris Carpenter – Senior Adjunct Professor in the Cinematic Arts & Technology department at California State University, Monterey Bay.
UNABLE TO ATTEND:
Nazy Javid  – News Director / Anchor, North Coast News TV, KAEF ABC 23 | KBVU FOX 28, Eureka (out of town for her wedding!).
ARTICLES ABOUT PAST NATAS REGIONAL MIXERS:
Hot Regional Mixer in a Cool Setting
Fresno Region Hosts NATAS Board Meeting & Member Mixer!
Member Mixer Roadshow Rolls Offshore: Hawaii
ARTICLES ABOUT PAST MENTORSHIPS:
Gurajpal About Mentorship: 'What I Needed to Hear'
Abel About Mentorship: 'For Everyone Who Wants to Improve'
Mentor Match Program Provides Professional Boost
HOW TO BE A MENTOR OR MENTEE:
MENTOR MATCH PAGE
QUICK MENTOR MATCH QUESTIONNAIRE
Join NATAS or Renew Membership!
DOUBLE ZOOM SATURDAY, JANUARY 23
Smaller Market Mixer – 10:00-11:30a
Mentor Match Update – 11:30a-12:30p
Members and Non-Members Invited
RSVP –https://emmyexpress.com/membership_events.php?c=7&e=67
[one link for both sessions – attend both sessions or one]

Feel free to Share this article and invitation with colleagues and friends – SHARE buttons below, or here's the shortlink to copy: bit.ly/2LmffEZ
---